Comfort and hydraulic upgrades drive telehandler development
10th November, 2023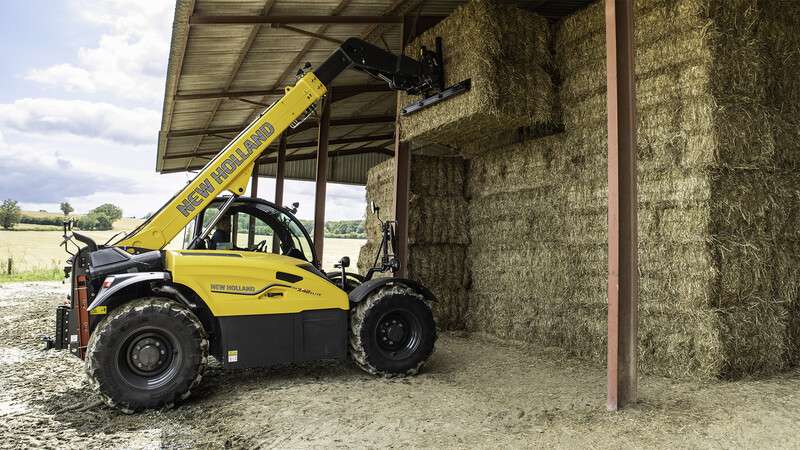 New features for complete 13-model range
Variable-flow pump upgrade boosts output with 160 l/min oil flow
Operators benefit from cab updates including new controls
6F/3R powershift transmission now standard on all models
With continued investment in the Lecce plant in Italy, where the machines are built, and a plan to further increase production by the end of 2024, at Agritechnica 2023 New Holland is introducing multiple updates for its TH telehandlers, which comprise of five models and 13 variants. Enhancing areas from capacity to comfort, the upgrades are aimed at further boosting customer appeal, and include features that cannot be found from any other manufacturer, such as the EIMA 2022 award-winning electro-hydraulic self-levelling attachment carriage system. Externally, the models are defined by not only by new decals, but also by a lower engine hood profile for enhanced vision to the right.

Elite pack models get greater hydraulic capacity for faster cycle times
While New Holland TH6.36 (max lift height/lift capacity 6m/3.6t), TH7.32 (7m/3.2t), TH7.37 (7m/3.7t), TH7.42 (7m/4.2t) and TH9.35 (9m/3.5t) models supplied in Plus specification retain a 140 l/min hydraulic system, the TH6.36, TH7.37, TH7.42 and TH9.35 models specified with the Elite pack now feature a 160 l/min high-flow piston pump. A higher oil flow per minute means faster cycle times, cutting by 25% the time taken to lift and lower the boom, boosting hourly workrates.

Like other New Holland products, the brand's new telehandlers incorporate innovative technology developed in-house. This includes electro-hydraulic self-levelling for the attachment carriage, a development revealed at EIMA 2022, where it received a Technical Innovation award. In place of the compensation cylinder which usually manages self-levelling is a pair of angle sensors transmitting boom position in real time to an electronic module. The tilt cylinder's precise oil flow requirement is then instantly calculated, for rapid and accurate self-levelling, plus minimal loss of material and less need for maintenance because of the reduced number of mechanical components.

New control layout simplifies operation
All New Holland TH telehandlers now use the 6F/3R powershift transmission that was already established on certain models in the range, with three adjustment levels for shuttle response and a power shuttle sensitivity button allowing rate of acceleration after a direction change to be adjusted. Elsewhere in the cab, changes to key controls ease operation and machine monitoring. A new InfoView 7in colour LCD screen simplifies settings and adjustments via a navigation encoder and – where a new rear-view camera option is specified – displays the view to the rear when reverse is selected. Adjacent to the screen, a new LED-based Load Moment Indicator with stability risk level alerts operators if maximum load capability is approaching and hydraulic lock-out imminent. With more and more farmers looking to observe and record machine performance to aid management, the new TH telehandlers are also PLM Connect-ready and come with a subscription to New Holland's PLM Connect telematics package, allowing for remote monitoring via farm computer or smartphone of location, fuel levels and more.

New armrest puts key functions at operator's fingertips
The TH cab now features a new operating armrest that is seat-mounted and fully adjustable, complete with a new joystick with integral hydraulic, transmission and shuttle controls. An integral keypad allows control of the screen and key functions including steering modes, transmission control and handling/loading/road modes. The armrest also incorporates Active Bucket Shake control, with crowd/dump speed and shaking frequency adjustable via the InfoView screen. Two pre-set positions can be stored for boom raise/lower and extend/retract, and for dumping/crowding the carriage.

Via an enhanced continuous flow function, engine speed and auxiliary flow rate can be precisely adjusted and activated via a joystick button to drive an attachment such as a rotary brush. An engine speed control button allows a set rpm to be stored for operating a specific attachment.

The keypad also provides simple management of features including rear camera activation, auxiliary service pressure release, boom ride control engagement, transmission de-clutch, boom reactivity, rear auxiliary services activation, and boom level lift with synchronised boom extension/retraction. Engine auto-boost automatically increases engine speed to high-idle if the machine is operating at low speed in loader function with the boom fully retracted and the hydraulics in operation. By temporarily activating the de-clutch function, maximum engine power is transferred to the hydraulics, before drive is then engaged again to ensure pushing power is maintained.

A mode to match every job
Operating characteristics can be adjusted according to operator and job requirements, and include low or high sensitivity choices for joystick and boom response, depending on the need for ultimate precision or fast workrates. New TH telehandlers also offer operating modes selectable to suit the work in hand. In loading mode, priority is given to fast shuttling and rapid boom movement, while handling mode prioritises smooth shuttling and boom operation, with synchronised automatic boom extension/retraction and vertical lift minimising cycle times and easing operation, attributes suiting precise tasks such as bale stacking and truck loading. In transport mode, boom hydraulics are disabled, smooth power shuttling enabled and two-wheel steer engaged.