New Holland displays electric developments for its Light Equipment line at Agritechnica 2023
10th November, 2023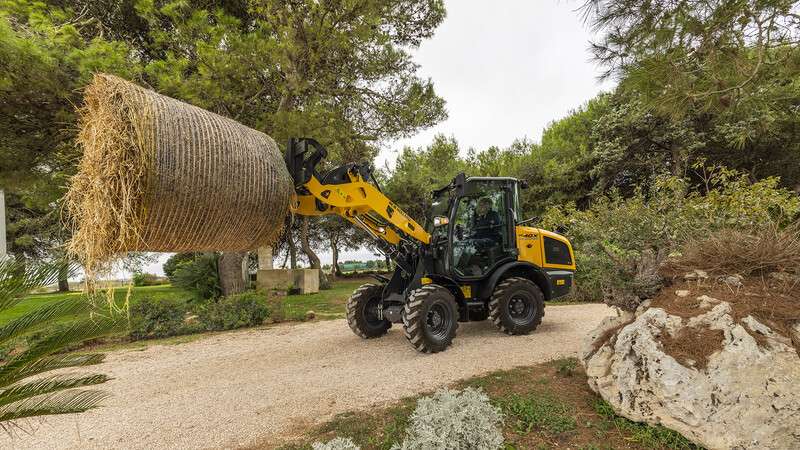 In line with its Clean Energy Leader strategy, New Holland exhibits will include an all-electric mini excavator and an all electric compact wheel loader, both running in the Driver Experience Area
Unveiling of the world's first 2.0t excavator with two-piece boom follows purchase of Sampierana and opening of new plant in Cesena, Italy
First European public showing for the new C314 mini track loader, opening a new product category for New Holland Light Equipment
Agritechnica 2023 will see New Holland announce the latest updates to its light construction equipment range, as the brand brings to the event its newest developments in electric machines, alongside new entries in the mini and midi excavator and compact wheel loader ranges, plus a new track loader to reinforce New Holland's offering in landscaping, groundworks and associated applications. Products will be both displayed on the brand's stand and at work in a new outdoor demo area at the show in Hannover, where visitors will be able to try the machines on a track.

CNH Industrial's acquisition of Sampierana and the recent inauguration of the production site in Cesena, Italy – which is dedicated to manufacturing miniexcavators and mini track loaders including electric models – has allowed New Holland to expand its product portfolio in light equipment, while also broadening its customization capacity and extending its alternative propulsion offering, in line with the brand's sustainable strategy and Clean Energy Leader vision.

A range of full-electric light equipment developments
With noise and emissions regulations becoming more widely imposed, particularly in Europe, machine power development is increasingly focused on electrification across machine types, including light construction equipment. Consequently, and following last year's launch of New Holland's first fully-electric mini excavator – the E15X, winner of a Special Mention at the EIMA Technology Innovation Awards – the brand now introduces a new, more powerful fully-electric model, the E25X Electric Power, which will be running in the new external demo area at the fair in Hannover.

The E25X is powered by a 102V/32.2kWh cobalt-free battery, with its environmental credentials further enhanced by its use of eco-friendly biological hydraulic oil, which also extends service intervals. Autonomy varies between four and eight hours, depending on the application and selected working mode, with no energy used when in stand-by. Battery charge time is just one hour from 0 to 80% charge, or 1.5 hours with the 380V off-board fast charger and 9-10 hours with the 220V on-board system. The E25X also features a variable-width undercarriage which allows the distance between the tracks to be varied from 990-1,300mm, maximising stability and accessibility while maintaining the cab roominess of a higher weight-class excavator.

As a zero-emission vehicle with very low operating noise, the E25X is ideal for projects prioritizing sustainable business practices and for works in areas with emissions and noise restrictions. Its compact dimensions make it well-matched to work requiring access the tightest spaces or indoors work areas, in applications from agriculture and horticulture to landscaping, digging and demolition in confined workspaces. While the smaller E15X presented last year is an open-station machine, the E25X also comes in a cab version. Electro-proportional controls allow the customization of each movement independently, adapting machine behavior to operator preferences, while advanced load-sensing hydraulics ensure precise simultaneous movements.

In the Agritechnica demo area, visitors can also try the new electric compact wheel loader, the W40X Electric Power, which is again targeted at indoor, closed or urban areas. With a full electric powertrain, the 1,650mm-wide W40X uses a 23kWh battery providing 39kW rated power, with a 3-6 hour work time depending on application. Total operating weight is 3.7 tonnes and bucket payload is 1.9 tonnes, with a standard bucket size of 0.5m3.

The new W40X features an innovative attachment linkage designed for battery electric vehicles, offering the same strength and durability as a standard design but with reduced weight and a 5% advantage in working energy. It also features a series of automated functions for easier control of boom and bucket operations such as returnto- dig, return-to-travel and return-to-height. The batteries of all New Holland electric light equipment machines have a three-year warranty.

Upgraded and expanded range of wheel loaders
The New Holland stand will include the W170D as an example of the upgraded W-series wheel loaders. The new model offers more payload and lifting height, while the heavyduty axles can now be selected with a wider combination of differentials: open, fullylocking or limited-slip. To match the machine's increased performance, it features robust axles and a chassis that has been reinforced to match its new levels of capability. The 2024 range includes an additional model, the W150D, which brings increased tipping load, higher hinge pin height and faster cycle speed over the established W130D, and among other applications is targeted at the biogas sector.

The W80C EVO that will also be displayed is part of the Compact Wheel Loader Evolution program built to compete on the European continent and features a renewed operator interface; new color display and new wheel loader-style keypad, plus automated features and new modular axles that enable a 40 km/h top travel speed.

Of the mini excavator models launched at EIMA 2022 in Italy, New Holland will bring to Agritechnica the E20D, one of the new machines manufactured in-house after the acquisition of Sampierana. Belonging to the 1.5-2t class, which represents almost 40% of mini excavator sales, the E20D is a short radius model, ideal for work in confined spaces, and is less than one meter wide thanks to its variable gauge design. It is the world's first two-piece boom model in the 2t class and offers significant advantages in working range compared to traditional mono-boom excavators. The E20D also features a convenient tilting cab for easy access to all machine components.

A new mini track loader
Agritechnica 2023 will also see the European launch of a brand-new New Holland light compact machine for 2024, the C314 mini track loader. Recently presented at shows in the North American market, the C314 is now available in Europe, and represents a completely new equipment and product category for New Holland in the region. The lightweight machine is designed for instant operation, requiring the operator to simply take a stand on the rear platform and go. The ultra-compact but powerful machine is ideal for landscape contractors and residential construction operations, with a comfortable operator platform, ergonomic grab handles with intuitive electro-hydraulic controls, radial lift boom and 25hp engine. Beyond the ergonomic design and ease of operation provided by the operating position, the machine also offers high levels of versatility thanks to multiple compatible attachments.