Top Protect
Top Protect offers peace of mind that your New Holland equipment will function seamlessly season to season.
Top Protect provides you with a safety net of services to maximize your New Holland equipment's life, efficiency and value.
Top Protect enables you to protect your investment and maintain the value of your New Holland equipment over its lifetime.
New Holland Top Service™
Top Service utilizes the entire New Holland network to provide expedited parts and service solutions to keep your equipment performing when you need it most.
Dealer support to ensure your uptime during busy seasons
Fast parts fulfillment and service for your equipment
Personalized repair solutions to suit your needs
New Holland Top Service coverage applies to our leading flagship products for the duration of the OEM base warranty period. Please contact your nearest New Holland Dealer for information, or call 866.639.4563 for more details. Some exclusions may apply.
New Holland Product Eligible for Top Service Assistance:
T9 Series 4WD Tractors
T8 Series Tractors
T7 Series Tractors
Guardian™ Sprayers
CR Combines and Heads
CX Combines and Heads
Big Baler large square balers
Speedrower® Self-Propelled
Windrower and Heads
FR Forage Cruisers and Heads
Construction Products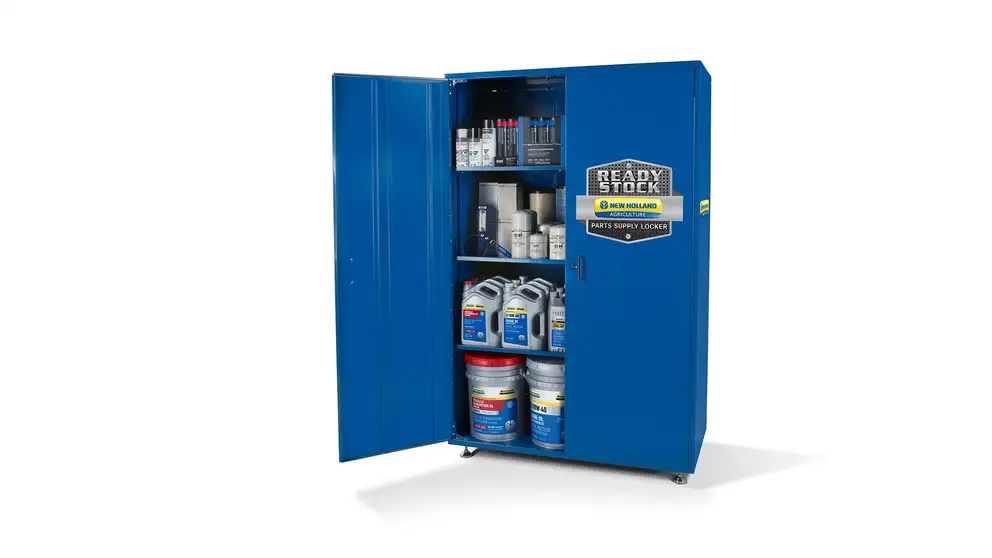 New Holland Top Parts
Top Parts ensures you have access to the parts and lubricants you need when you need them.
Parts stocked and/or shipped by your trusted New Holland Dealer
Reduced downtime with readily available parts
Ability to maintain uptime during busy seasons
Parts Locker
An on-site, ready-stocked Parts Locker through your New Holland Dealer provides the ultimate level of convenience and proactive support.
Parts readily stocked to be there for your equipment before they're needed
Immediate access to genuine parts and fluids engineered for your equipment's performance
Keep equipment in the field longer by having replacement parts and fluids on-hand
MyCNHi Store
MyCNHiStore.com is your convenient, 24/7 online parts store where you can shop the complete stock of New Holland parts and fluids directly through your local New Holland Dealer.
Shop directly with your New Holland Dealer with your choice of pick-up or delivery
Browse the full New Holland parts catalog by searching part numbers, categories or keywords
Select your New Holland equipment model to shop parts engineered to fit your equipment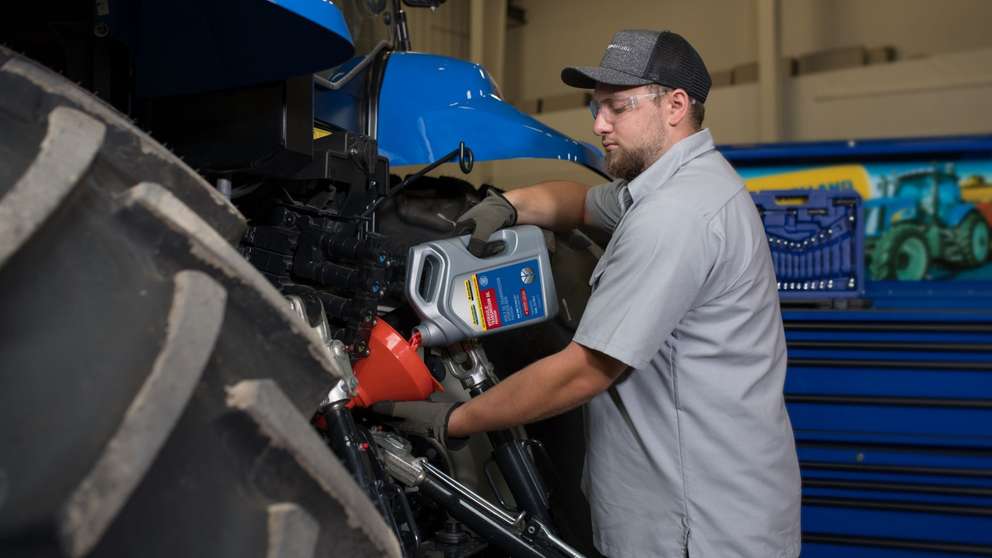 New Holland Top Maintain
Top Maintain allows you to be in control of your maintenance, keeping your equipment in ideal performance shape through every season.
Predictability over maintenance costs
Regular service intervals performed by New Holland certified technicians
Decrease unplanned interruptions
Planned Maintenance Agreement
A Planned Maintenance Agreement from your New Holland Dealer is a comprehensive maintenance plan that provides visibility and control over your maintenance schedule and costs.
Locked-in costs to better budget future equipment maintenance
Service performed by New Holland certified technicians
Proactive maintenance to increase your equipment's longevity, performance and resale value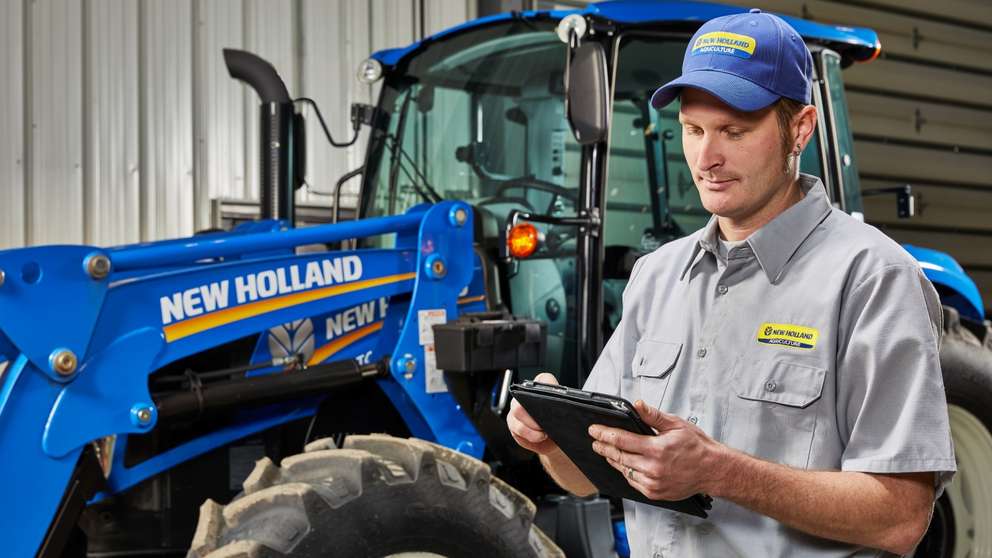 New Holland Top Coverage
Top Coverage provides coverage beyond the base warranty period for peace of mind and additional protection for your equipment investment.
Extra coverage for your equipment investment
Flexible payment and term options
Repairs performed by authorized service centers with genuine OEM parts
Purchased Protection Plan
With a Purchased Protection Plan from your New Holland Dealer, choose the right additional coverage plan for your new or used New Holland equipment to suit your budget and operational needs.
Control over maintenance costs with coverage beyond the base warranty period
Dedicated dealer support and technicians to deliver expert service
Lower total cost of ownership
Physical Damage Insurance
Physical Damage Insurance (PDI) provides coverage to repair or replace your equipment in the event of direct physical loss or damage.
Coverage is available immediately for eligible equipment
Premiums are guaranteed and will not change for the term of your CNH Industrial Capital loan or lease
Flexible deductible options are available to meet your needs

Rental Damage Waiver
A Rental Damage Waiver (RDW) is an agreement between you and the rental dealership that helps protect you against costly bills for major repairs or replacement of rented equipment.
Limits your financial responsibility in the event of loss or damage to rented equipment
Reduces any exposure to your primary insurance policies
Eliminates the need to provide proof of physical damage insurance before renting equipment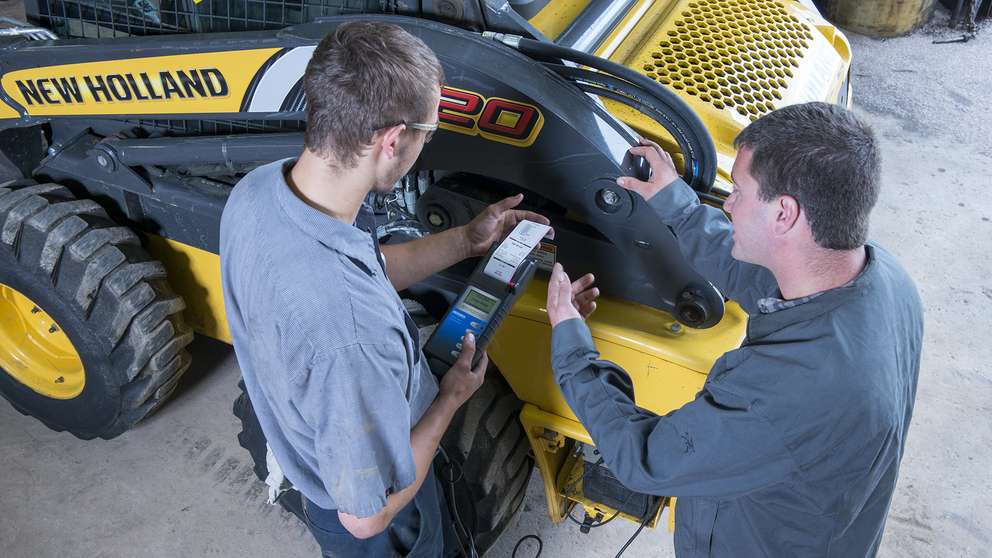 New Holland Top Support
Top Support provides the ultimate level of connected and proactive maintenance, allowing performance for your machine.
Real-time monitoring of machine alerts from your trusted New Holland Dealer
Increase productivity by identifying maintenance opportunities proactively
Know your equipment inside and out through insightful data reports
New Holland Control Room
The New Holland Control Room allows your dealer to identify equipment issues and maintenance needs proactively through real-time monitoring, saving you from costly unexpected downtime.
A complete, real-time picture of your machine status and performance available to your New Holland Dealer
Ability to be proactively notified about maintenance needs and schedule repairs through your dealer
Monitoring of connected machine usage and health to improve operator and machine productivity
Maximum support of your connected machine through your trusted New Holland Dealer fleet management and service portals
Customer Electronic Service Tool (EST)
The Customer EST operates on a PC with a Windows 10 (64-Bit) operating system. This provides you with the ability to connect to your New Holland equipment via a protocol adapter to the equipment's CAN network.

Diagnostic functions the Customer EST provides:
Controller status/version retrieval
Parameter monitoring
Fault code retrieval and clearing
Electronic version of service manuals
A subscription to the Customer EST can be purchased from a local authorized New Holland Dealer.